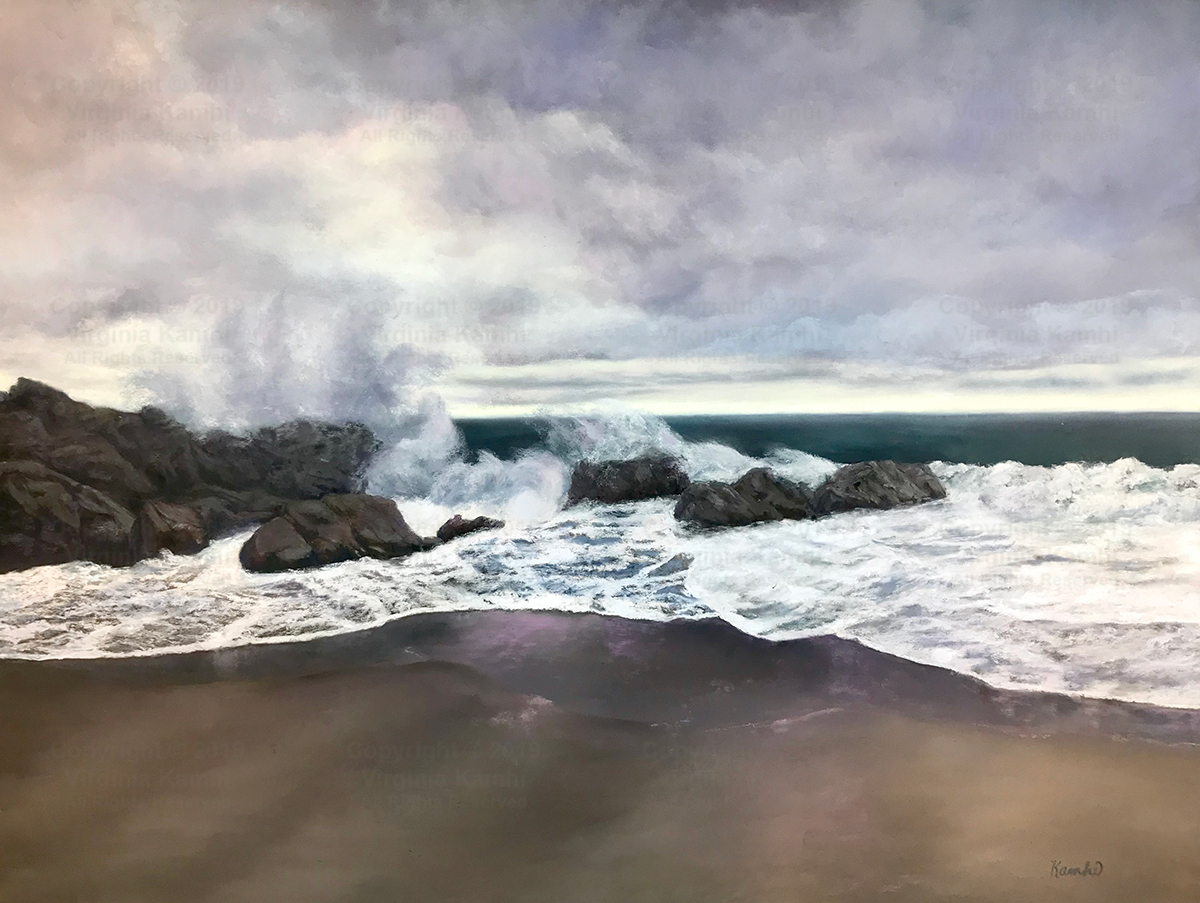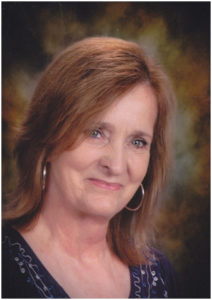 Much as a poet uses words to express spirit, emotion, and beauty of thought, pastel artist Virginia Kamhi paints expressive realist paintings that convey the poetry, imaginative power, and rhythm of the natural wonders that surround her.
Growing up in the foothills of the San Bernardino Mountains in Southern California, Kamhi spent many childhood hours roaming the hills around her home and many weekends bodysurfing in the ocean. These early memories perhaps influence her art, because California landscapes and seascapes are her preferred subjects.
Kamhi's art journey began at an early age, as she sat beside her grandmother while she painted or imagined herself wandering through her great uncle's magnificent oil landscapes. Art surrounded her, and she spent many childhood hours drawing, coloring, and experimenting with various media. But her childhood schedule was filled with ballet and violin lessons, and there was no time for her busy mother to ferret her or her sisters about to more activities. Art lessons were out of the question. While Kamhi attended UC Santa Barbara, she studied art history and enjoyed the art openings but never was able to fit studio art into her schedule.
A chance to study art finally arrived when Kamhi decided to enroll her young son in the early childhood education program at a local college. As this preschool was only available for the children of students and faculty, Kamhi chose to enroll in art classes. For two years, she happily attended studio art classes and entered student shows and competitions. On one occasion, a gallery owner asked to exhibit some of her work.
A series of moves made it impossible to continue studying art, and Kamhi went back to school for her teaching credential. Teaching children was joyful and rewarding, and it taught Kamhi to see the world through the wide-eyed wonder of a child. It was no accident that art was her favorite subject to teach. She loved to share the lives of famous artists and design art lessons that would encourage her students to try various media and styles. During summer breaks she sometimes took art classes designed for teachers, and her frequent visits to art museums all around the world provided her with a wealth of information to share.
Upon retiring from her teaching career, Kamhi was once again able to study art. She hadn't planned to take up pastels, but a friend convinced her to enroll in a pastel class at the local adult education school. She didn't much like pastels. They were dirty and messy.
However, luck played a role when Kamhi attended an art show and discovered a pastel artist whose beautiful landscapes took her breath away. She talked to the artist and was told that she should try to study with Richard McKinley. Kamhi had never heard of Richard McKinley, but she rushed home to look him up online. His work was truly amazing, and he was going to be presenting a workshop near her home for the Pastel Society of Southern California. She immediately joined PSSC and enrolled in McKinley's class.
Kamhi attended her first PSSC meeting, where she met other artists who steered her towards classes with well-established pastel artists in Ojai, CA. She also learned about the upcoming International Association of Pastel Societies (IAPS) convention in Albuquerque and immediately signed up to attend. Pastels had clearly grabbed her, and her experiences at the IAPS convention in Albuquerque cemented her interest when she was able to study with some of pastel's greatest contemporary artists, Albert Handell and Alan Flattmann.
Back home, Kamhi threw herself into the pursuit of pastels, studying with Jannene Behl and Bert Collins in Ojai, and attending myriad workshops with pastel's great artists. Kamhi has pursued every avenue to learn more about art, studying studio arts at Moorpark College, haunting the halls of art museums and galleries around the world during her frequent travels, and entering shows and competitions. She has been juried into international pastel shows on numerous occasions and has won countless awards in local and national juried shows. She has also been juried into many art museum shows, and her work is included in private collections across the United States and Europe.
Kamhi is a juried member of the Pastel Society of America. She also is a member of the Pastel Society of the West Coast, the California Art Club, and several local art guilds. She serves on the board of the Pastel Society of Southern California and the Allied Artists of the Santa Monica Mountains and Seashore, a group that donates a portion of proceeds from its sales to preservation and conservation efforts in the Santa Monica Mountains and Seashore.
Although Kamhi also works in other media, pastels are her passion because of their tactile quality and unique ability to paint the visual poetry that nourishes her soul. She loves to hike in the local mountains and observe the essence of the sunlight, the complexity of form in the landscape, the interaction of light and shadow. She feels it is a privilege to closely observe what others fail to see in the course of their hurried lives. Kamhi is likewise inspired by the mesmerizing rhythms of the ocean, and she spends hours observing, photographing and painting plein air beside the sea. To Kamhi, this is an emotional and spiritual connection, and she hopes that those who view her art will be filled with that same peace.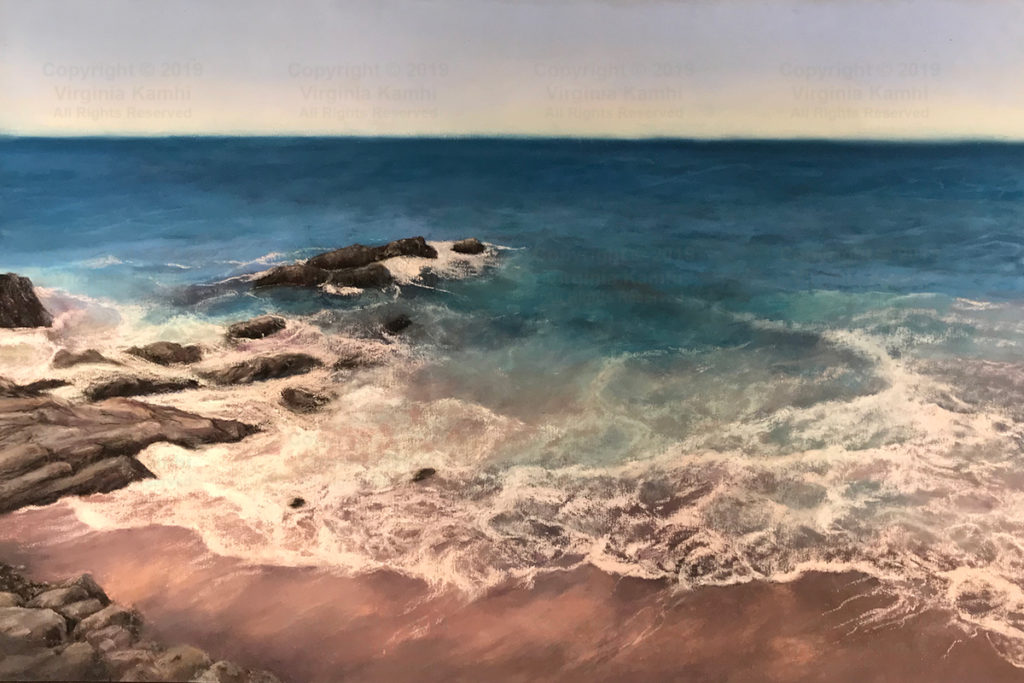 Virginia Kamhi was a participating artist in the 2019
Rejoice in Art!
Fair