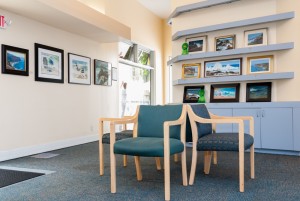 We are pleased to announce our fifth annual fine art exhibition — "For the Beauty of the Earth 2019" — a national juried showcase of representational fine art that coincides with our Rejoice in Art! Fine Art Fair. This exclusive show of original art in a variety of mediums will take place October 12-27 at Riviera UMC, 375 Palos Verdes Blvd, Redondo Beach, CA 90277.
The goal of this exhibit is to rejoice in the beauty of our earth and to celebrate the artists who capture this beauty in their creative process. It is also to provide an opportunity for artists to display their work, and for the public to view and purchase the excellent plein air and studio pieces being produced by these fine artists.
Artists and the public are invited to attend a special awards reception to be held at Riviera UMC on Sunday, October 13 at 3 p.m.
Exhibition Juror: Barbara Jaenicke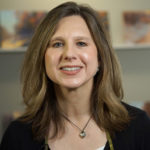 Barbara Jaenicke (pronounced JAN-i-kee) loved to draw and paint as a teenager and desired at an early age to pursue a career of some sort in the art world. She received a Bachelor of Arts degree in 1986 from The College of New Jersey (formerly Trenton State College), majoring in Art with an emphasis in Advertising and Design, while also studying fine art outside of her college studies. Her early career was spent in advertising as an art director, then later in a corporate marketing communications role. In 2002, she was able to turn her focus to a career in fine art, pursuing it full steam ahead, and continues to do so with stubborn determination.
Barbara works in oil and pastel, and strives to capture light-filled landscapes in an impressionist style. She holds Signature Memberships in the Oil Painters of America (OPA) and American Impressionist Society (AIS), and has earned the distinctions of Master Pastelist in the Pastel Society of America (PSA) and Eminent Pastelist in the International Association of Pastel Societies (IAPS). Her award highlights include 2nd Place in the 2018 AIS National Juried Show, Plein Air Magazine's Plein Air Salon competition wins in August/September 2017 (Best Water) and April/May 2014 (2nd Place), multiple BoldBrush awards including Best of Show in March 2015, and the People's Choice award in the 2014 AIS Juried Exhibition. She has been featured in Southwest Art Magazine (October 2018), Plein Air Magazine (September 2018), Fine Art Connoisseur's "Three to Watch" column (February 2018), Southwest Art's "Artists to Watch" column (January 2017), and her work has been published numerous times in the Pastel Journal.
Barbara is a popular workshop instructor throughout the US, teaching between 8-12 workshops coast to coast each year. After living in the Atlanta, Georgia area for 23 years, Barbara and her husband and son relocated in May of 2015 to Bend, Oregon. Primarily a landscape painter, she's excited to now explore and paint the spectacular scenery of central Oregon and the Pacific Northwest.
Awards Judge: Desmond O'Hagan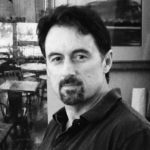 Desmond O'Hagan was born in Wiesbaden, Germany, and was raised in the United States. He enjoys working in several media, but his primary focus is in pastels and oils. Although he appreciates many different forms of art, his main interests include the paintings of several late 19th century American, French, Spanish, and Russian painters.
O'Hagan is an Eminent Pastelist with the International Association of Pastel Societies. He is listed in Who's Who in American Art and is a Master Pastelist with the Pastel Society of America. In 2005, he was inducted into the International Association of Pastel Societies' (IAPS) "Masters Circle." O'Hagan has won several awards in national and international exhibits including IAPS convention exhibit's Prix'd Pastel Award, "Southwest Art" magazine's Award of Excellence at the "Altitude & Attitude" Exhibition in Denver, CO. He has also won the George Innes, Jr. Memorial Award from the Salmagundi Club in New York City, and awards from the Pastel Society of America's annual exhibits (Mrs. Pearl Kalikow Award, Hudson Valley Art Association Award, and Connecticut Pastel Society Award)
His paintings have been the subject of feature articles in numerous national and international magazines including The Pastel Journal, American Art Collector, Southwest Art, The Artist Magazine, International Artist, American Artist, United Airlines' Hemispheres magazine, Pratique Des Arts (France), Artists and Illustrators (England), International Artist (Australia), and Gekkan Bijyutsu (Japan). He is also represented in four books. O'Hagan's art is in public and private collections in the United States, Japan, China, Canada, and Europe. He is represented by galleries in Santa Fe, NM, Charleston, SC, Denver, CO, and Desmond O'Hagan Studio, Denver, CO.
Enter the Show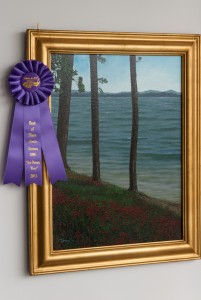 To enter, go the onlinejuriedshows.com page for Rejoice in Art! "For the Beauty of the Earth 2019."
Entry deadline is August 30, 2019. Open to all representational artists in any two-dimensional media, excluding photography.
"For the Beauty of the Earth 2019" is part of Riviera UMC's Rejoice in Art! Fine Art Fair and Exhibition. Contact us for additional information.