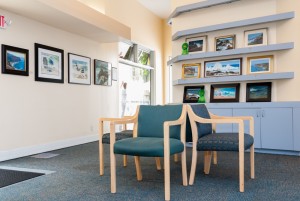 We are pleased to present our fourth annual fine art exhibition — "For the Beauty of the Earth 2018" — a national juried showcase of representational fine art that coincides with our Rejoice in Art! Fine Art Fair. This exclusive show of original art in a variety of mediums will take place October 13-28 at Riviera UMC, 375 Palos Verdes Blvd, Redondo Beach, CA 90277.
More than 90 original paintings in oil, pastel, watercolor, acrylic and mixed media will be on display. All of the artworks are available for acquisition. Check here for a sneak peek at the accepted artwork and be sure to stop by during the exhibition. Artists and the public are invited to attend a special awards reception to be held at Riviera UMC on Sunday, October 14 at 3 p.m.
Exhibition Juror: Kim Lordier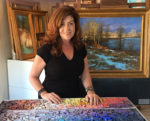 Kim Lordier received a BFA in Illustration at the Academy of Art University, San Francisco in 1989. After college, she flew with a major air carrier, turning to painting full time after the events of September 2001. In 2002, she was introduced to the art of the Early California Impressionists at the Oakland Museum, and was exposed to plein air painting as a creative means.
Currently, Lordier's paintings are in private collections throughout the country, and have been exhibited at the Autry Museum, Maynard Dixon Country, Coors Western Art Show in Denver, National Arts Club and Forbes Gallery in New York, Haggin Museum, Forbes Galleries, Pasadena Museum of California Art, Irvine Museum and the Laguna Art Museum.
Her work has been showcased on the cover of Art of the West, Southwest Art, and The Pastel Journal, as well as featured in PleinAir Magazine, Fine Art Connoisseur, American Artist and The Artist Magazine. Acknowledged by jurors and her peers, Kim has received recognition for her landscapes at major plein air events, international magazine competitions, national pastel society shows and museum exhibitions.
Kim is a Signature Member of the California Art Club, the Pastel Society of America, Laguna Plein Air Painters Association, and a Distinguished Pastelist of the Pastel Society of the West Coast. A coveted workshop instructor, Kim leads workshops across the country.
Awards Judge: Peter Adams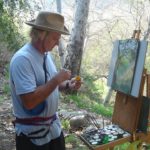 Contemporary American artist Peter Adams was born in Los Angeles on August 27, 1950. He received his training at Art Center College of Design, Otis Art Institute, Instituto de Bellas Artes, San Miguel de Allende, and at the Lukits Academy of Fine Arts in Los Angeles. At the Lukits Academy, Adams spent seven years, from 1970 to 1977, in diligent formal training, including four years as the personal apprentice to the renowned classical painter of murals, landscapes, and portraits, Theodore N. Lukits (1897-1992).
From his years with Lukits, studying still life compositions consisting of sculptures and porcelains from various Chinese dynasties that were part of the Lukits personal collection, Adams gained a heightened appreciation for Asian objects d'art and antiques. This interest later led to Adams traveling throughout Asia, and in 1981 he became the first American artist to travel and paint unescorted through the People's Republic of China. His fascination for Asia gained him great acclaim when, in 1987, he was the only American artist to travel and paint with the Mujahideen rebels in Soviet-occupied Afghanistan. Today, Adams combines Eastern design concepts with the Western sense of depth through atmosphere.
Since 1993 Adams has served as president of the historic California Art Club, which was established in 1909 and is one of the largest and most active professional arts organizations in the country. Under his leadership, the Club's roster has grown from 80 members to nearly 3,000 at present. Today, the California Art Club is recognized as a leading proponent of the current national realist art movement.
Enter the Show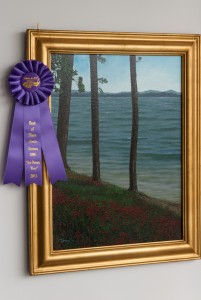 The show is now closed for entries and the artwork has been juried in.
We thank all of the artists who participated, and extend our congratulations to those whose artwork was accepted.
Preview the accepted works here.
"For the Beauty of the Earth 2018" is part of Riviera UMC's Rejoice in Art! Fine Art Fair and Exhibition. Contact us for additional information.