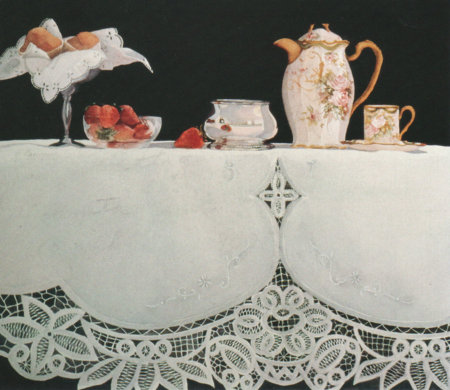 Virginia Caviness is a multi-media artist whose oils, watercolors, acrylics and pastels exhibit a strong sense of composition reflective of her extensive and diversified art background and studies. Her creative and unique portrayals have been influenced by her early Southern heritage, extensive travel, and her years in both Northern and Southern California.
Virginia says her objective is to create the unusual. This poses a challenge to the artistic process which she says is part of the joy, pain and anticipation of the final outcome.
When painting, regardless of the medium, my first consideration is design, color and space. This then, co-mingled with expressive character, becomes my presentation.

In my Tablescapes I use objects that are familiar to me and have a special meaning. When selecting the objects, I look for certain shapes and how they relate to each other and the negative space around them. I then may decide to only place a portion of the object within the picture frame.

I selected watercolor for these studies because of the glowing transparency of the medium and its ability to express the fragile nature of the subject matter.

My goal is to write a visual symphony in color with subtleties and bravura of my own. With harmonious composition and clear notes, I want the viewer to hear a song about a moment that I experienced.
Virginia has studied at the Memphis Academy of Arts, the Torpedo Factory in Alexandria, Virginia, DeAnza College in the California Bay area, and El Camino and Harbor Colleges in Southern California. In addition to her formal training, she has studied with such art notables as George Post, Miles Batt, Charles Reid, Robert Wood, Joe Mugnaini, Scott Moore, and Jae Carmichael.
She is a charter member of National Women in Art and is affiliated with Brooks Memorial Art Gallery of Memphis, Northen Virginia Art League, Long Beach Art Association, Los Angeles County Museum of Art, and the Palos Verdes Art Center.
Her art has been accepted into numerous juried competitions and has received awards at national, regional and local levels. Her work has also been featured as the cover for a national magazine.
Virginia Caviness was a participating artist in the 2015
Rejoice in Art!
Fair