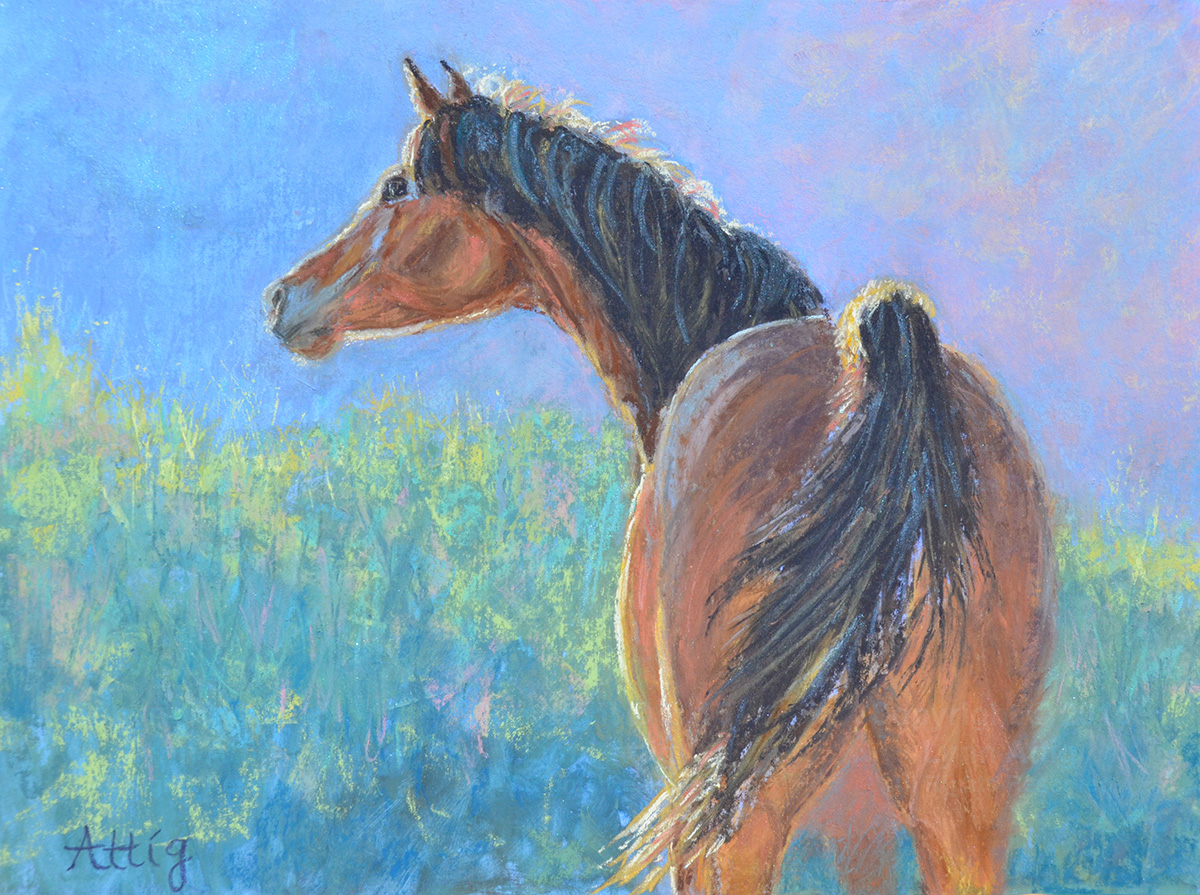 The Pastel Journey
I paint with pastels. That's what I do. Several generations of painters before me set the stage for my entry into the art arena.
As a child, I lived in the country, sitting in the tall grass with a drawing pad and pencil while my horses grazed beside me. At age 11, I won my first art contest, in which I drew a horse running along a fence, entitled, "The Grass is Always Greener."  My parents made sure my three siblings and I were immersed in the fine arts, from music to dance to writing and painting.
Art was always in me, seeking a voice, and it returned to me throughout my life in different forms. Eventually my path led me to the big city, jetting around for a demanding communications career and raising a family.
But the need to slow down and create emerged again. I took art classes with my kids and taught art as a volunteer in their schools. My parents seized the moment and whisked me off to France to paint en plein air, introducing me to many different pastel artists. My passion was fueled, and so I began a life of painting.
A few years later horses would also re-enter my life, when my family found a ranch in the Central Coast of California and gathered together livestock for a new adventure. Aha! The perfect painting subjects. It was a chance for me to return to the country and the things I love.
Escape With Me
I am a country girl at heart. Which is why plein air painting makes me tick. My best day ever is spent standing on a hilltop with miles of horizon beyond my easel, a rainbow of pastel sticks in my hand. Art is a transcendent experience, a virtual tour for my mind and soul.
When I paint, I am galloping my horse through endless fields of wild oats, feeling the wind caress my face. Or crossing a footbridge over a tranquil pond. You might say I am a dreamer. And I am. I get to escape from the roar of the world, if only for a moment, and dwell in the places I have created. I hope when you look at my paintings, you will find yourself transported there, too.
The Medium
Pastel comes from the French word, pastiche, which means paste or powder. It is pure pigment in a stick, with just a small amount of binder, and it is capable of producing glorious color and light refraction. It is also extremely archival, standing the test of time for more than 400 years.
All of my original pastels are painted on museum quality sanded paper or board, using the finest materials. They are showcased in beautiful wooden frames using anti-reflective museum glass to protect against UV rays and eliminate glare.
Biography
As co-founder and president of the Pastel Society of Southern California, I am interested in sharing the pastel medium with other artists. I am also a member of the Pacific Art Group of the Palos Verdes Art Center; an associate member of The California Art Club; and a former member of the Redondo Beach Arts Group.
My most recent awards include 3rd place, Popular Choice Award, Figurative and Animals, at the 5th Annual PSSC Members' Exhibition, 2014; 1st place, Popular Choice Award, Portraits and Figures, at the 2nd Annual PSSC Members' Exhibition, 2011; Honorable Mention in the Palos Verdes Art Center Small Treasures Show, 2012.
I have studied with master pastel artists, including Elizabeth Mowry, Richard McKinley, Desmond O'Hagan, Bob Rohm, Kim Lordier, Sally Strand, Joe Mancuso and many others. My paintings are included in both corporate and private collections in the U.S. and Europe.
Lynn Attig is Director, Rejoice in Art! Fine Art Fair and Exhibition.
Lynn Attig was a participating artist in the 2015
Rejoice in Art!
Fair