Robin Kirk paints a variety of subjects with an innate love for the natural world. Her knowledge of the landscape is gained from her thousands of hours and miles hiking, backpacking, camping and fly-fishing in the foothills of the Sierras, the High Sierras and Oregon. This has been a journey to share.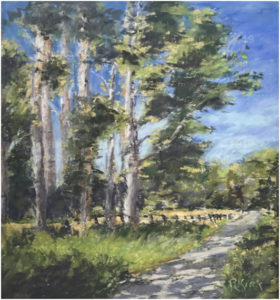 She has a degree in Design from the University of California, Berkeley. After graduation and a move to Hawaii, her initial creative interest was Chinese landscape brush painting under the tutelage of Lam Oi Char of Honolulu. Returning to the mainland, she continued to practice this humbling art for ten years and taught private students and classes at the State University of New York, Albany in their continuing education program. It is this foundation in Chinese landscape painting that is the basis for capturing the spirit in living things.
She is now currently working in pastels, acrylics, watercolors and mixed media, enjoying newfound creative freedom. It is exciting and challenging to match the medium with the subject.
She works in plein air and her home studio using the outdoors, her photographs and her memory of trails traveled for inspiration. Seeing the natural world through an artist's eyes is an ongoing joy. Capturing it on canvas or paper is a never-ending challenge.
Robin Kirk was a participating artist in the 2019
Rejoice in Art!
Fair