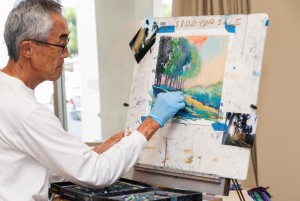 Thank you for your interest in our annual fine art fair, Rejoice in Art! We at Riviera UMC are pleased to present this exciting art event open to the community on Saturday & Sunday, October 14 & 15, 2017.
The fair will feature thirty artist tents and booths, art demonstrations, musical entertainment, food trucks, a homemade gifts/goods boutique, children's art activities, opportunity drawings and more!
Artist Registration
Thirty spaces, inside and outside, will be available for artists to display and sell their work (see booth space layouts below). We will make every effort to accommodate requests as space allows, assigned on a first-come, first-serve basis.
Please contact us for additional information.
Artist Booth Space
Booth space is sized to accept a 10'x10′ tent. Please provide your own tent (optional) and/or portable walls/easels. 1-2 chairs will be provided. Some 8-foot tables are available. There will be two exhibit areas.
Upper Patio
14 outdoor spaces will be available on the upper street-level patio and garden area.
Lower Level
19 indoor and outdoor spaces will be available on the lower parking lot level.
Juried Exhibition
In addition to the fair, a juried show of fine art landscapes, seascapes and other subjects by local and national artists will be held from October 14-29.
We look forward to your participation in the Rejoice in Art! Fair. If you have any questions, please contact us.