Oil Painting, Collage and Pastel
We are grateful to the artists below for sharing their talents and techniques at our 2019 Rejoice in Art! fair.
Oil Painting Demonstration by Desmond O'Hagan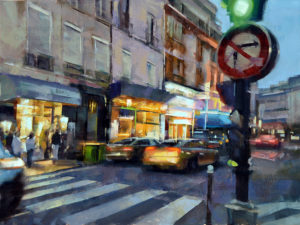 ABOUT THE ARTIST
Desmond O'Hagan was born in Wiesbaden, Germany, and was raised in the United States. He enjoys working in several media, but his primary focus is in pastels and oils. Although he appreciates many different forms of art, his main interests include the paintings of several late 19th century American, French, Spanish, and Russian painters. Continuous study of these painters has had a strong influence on O'Hagan's own art. Constantly challenging himself has translated into a fulfilling career in fine art encompassing several one-man shows and participation in group exhibitions in the United States, Japan, China, Canada, and France.
O'Hagan has recently achieved Eminent Pastelist status with the International Association of Pastel Societies. He is listed in Who's Who in American Art, and is a Master Pastelist with the Pastel Society of America. In 2005, he was inducted into the International Association of Pastel Societies' (IAPS) "Masters Circle."  O'Hagan has won several awards in national and international exhibits including IAPS convention exhibit's Prix'd Pastel Award, "Southwest Art" magazine's Award of Excellence at the "Altitude & Attitude" Exhibition in Denver, CO. He has also won the George Innes, Jr. Memorial Award from the Salmagundi Club in New York City, and awards from the Pastel Society of America's annual exhibits (Mrs. Pearl Kalikow Award, Hudson Valley Art Association Award, and Connecticut Pastel Society Award)
His paintings have been the subject of feature articles in numerous national and international magazines including The Pastel Journal, American Art Collector, Southwest Art, The Artist Magazine, International Artist, American Artist, United Airlines' Hemispheres magazine, Pratique Des Arts (France), Artists and Illustrators (England), International Artist (Australia), and Gekkan Bijyutsu (Japan).  He is also represented in four books.  O'Hagan's art is in public and private collections in the United States, Japan, China, Canada, and Europe.  He is represented by galleries in Santa Fe, NM, Charleston, SC, Denver, CO, and Desmond O'Hagan Studio, Denver, CO.
Collage Demonstration by Vickie Myers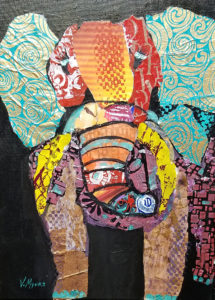 ABOUT THE ARTIST
Born and raised in the Los Angeles area, Vickie Myers grew up in the trifecta of locations — the ocean, the mountains and the desert. She has been married for 53 years to her high school sweetheart and has been blessed with two children and seven grandchildren.
Vickie has been painting most of her life, winning her first prize for watercolor at the age of 9. She taught watercolor for 20 years, after a career of teaching high school mathematics. Her mentor, Tom Fong, taught her to paint with freer brush strokes and larger brushes. "I like to paint in a variety of styles. I think this has developed from teaching the medium of watercolor for so long," says Vickie. "I wanted to bring new ideas and new techniques to my students and challenge them to push outside of their comfort levels."
Vickie's favorite subjects change from one series to the next, but her "Crazy Animals" acrylic collage series is her favorite thus far. Her collages have been so successful that she was accepted into the Collage Artists of America, awarded signature status in the International Society of Experimental Artists, and her work has been highlighted in Cheap Joe's 2017 reference catalog. Vickie exhibits in many local and national shows and has won many awards, including several Best in Shows.
Pastel Demonstration by Mike Ishikawa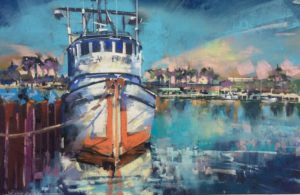 ABOUT THE ARTIST
Mike Ishikawa is an Architect by profession. During his vacations, or any time he had some free time, he sketched with his pen and ink, filling many sketch books with interesting places he visited with his wife Miki, creating postcards of his travels. Semi-retirement allowed some time to think about a new interest, which led to pastel painting in early 2009. He loves using pastels. The vibrant colors are unlimited. Mike is a skier, hiker, and fisherman, so painting the outdoor landscape has been one of his passions.
He uses bold, bright colors, strong strokes, shades, shadows, and varied textures to create an image that is similar to the actual image, but with more interest and a "painterly" (non-photographic) quality to the painting. He paints as a hobby, and his favorite subjects are seascapes around the south bay, old fishing boats, Sierra Nevada mountains, deserts and night images of buildings. He is a member of the Pastel Society of Southern California and the Pacific Arts Group of Palos Verdes.