Oil Painting, Watercolor and Pastel
We are grateful to the artists below for sharing their talents and techniques at our 2018 Rejoice in Art! Check back again soon to learn about plans for our fifth annual art fair and exhibition October 12-13, 2019.
Oil Painting Demonstration by Olga Krimon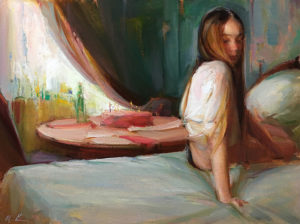 ABOUT THE ARTIST
Born in Odessa, Ukraine, Olga Krimon received academic art education in Kazan, Russia. Growing up she was (and still is) largely influenced by Repin, Serov, Brullov, Levitan, Kramskoy, Fechin and other Russian titans. She then discovered Sargent, Zorn, Sorolla and Cecilia Beaux, and to this day she examines the movement, the bold brushstrokes and the value arrangements in their pieces.
She continued to grow and develop her skills later in America, through drawing classes with Glen Orbik and painting classes with Jeremy Lipking. Olga also holds a BA in Art History, and she credits it with providing her the rich visual vocabulary that is instrumental for defining her path as an artist. She also later received an MBA, making her well-grounded in the business side of an artistic career.
Olga continues to refine her craft through independent studies and daily practice. Over time, she developed her own style grounded in fundamental principles of academic realism, sensitivity to subtle value and color transitions, and yet bold energy of movement and expressive brushstrokes. Olga's Figurative and Still Life Paintings are recognized by the Portrait Society of America PSoA (International Competition 1st Place Drawing 2016 and 3rd Honor Award 2014, Certificates of Excellence 2011, 2015 and 2018, Members Only 3rd Merit 2015 and Honorable Mention 2014) and American Art Collector Award of Excellence, Oil Painters of America (OPA) Western Regional Competition 2014. She is also a finalist in 2015 and 2016 Art Renewal Center (ARC) International Salon Competition.
Olga is a member of the Portrait Society of America (Signature Status) and the Oil Painters of America (Signature Member).
Watercolor Demonstration by Debbie Abshear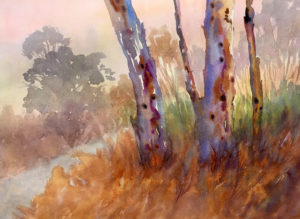 ABOUT THE ARTIST
Debbie Abshear is a watercolor artist specializing in plein air landscapes. She has exhibited at the Santa Paula Museum of Art, California State University of Dominguez Hills and at the Watercolor West Exhibition held at the Brea Gallery. She is currently exhibiting paintings at the National Watercolor Society Gallery in San Pedro, CA, and the Palos Verdes Art Center.
Debbie was recently honored to be selected as an artist to exhibit in the Artist in Embassies program in 2017. The new ambassador to India selected two of her watercolors to be exhibited in his home in Mumbai.
Debbie earned her Signature Membership in the Watercolor West organization and was honored to be included in the Northlight Publishers book, Splash 15, featuring the best 100 watercolor artists of the year.
Debbie was a Governing Board Member of the National Watercolor Society for six years. She holds membership in the National Watercolor Society, Watercolor West, South Bay Watercolor Society, Torrance Artists Guild, Pacific Art Guild, and the Palos Verdes Art Group.
Debbie regularly teaches watercolor workshops around the South Bay, including in San Pedro, El Segundo and Torrance, California. She regularly paints en plein air in and around her home in Southern California and practices daily studio painting.
Pastel Demonstration by Paula Brown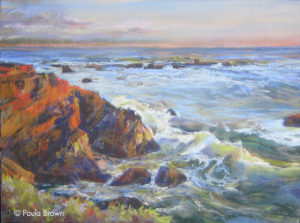 ABOUT THE ARTIST
Paula Brown is a Heartist. Paula draws and paints the connection to the "heart" — the feeling of places, events, environments. Her muse is nature. She is inspired by its form, light, and patterns that speak of its function, interconnecting with all to make up this world of ours. Her paintings reflect the light that radiates from each subject's source that shines the power of both experience and place. Paula loves to see deep into the ordinary to express its extraordinary.
Her favorite subjects are landscapes and seascapes (and fun loose sketching of place, experience, and folk's pets!). She paints en plein air, from her iPad and photographs, and she loves to employ under painting techniques, being schooled in process taught by internationally known pastel artist Richard McKinley. People viewing and jurying Paula's art have commented that her paintings excel in capturing the heart essence — the feelings of things, place, or scene — by creating an impressionistic focus of luminosity with unique marks of color and tone.
Having exhibited in juried shows in Southern California, she is also a member of the Pastel Society of Southern California and the Santa Barbara Art Association. Paula's paintings have been honored with awards from judges such as Richard McKinley, Steven Shriver, and Jeremy Tessmer.
Artists that inspire her are painters George Innes, John Singer Sargent, and the American and European Impressionists. Paula's art and storytelling beginnings were kindled by storyteller / artist Theodore Seuss Geisel — Dr. Seuss!
What fuels her heart? She is a life-long learner who grows by doing art as well as teaching others to share and express the beauty found in nature and in our own true nature.